Meet Blockchain for Professionals: No Programming Experience Required
B9lab Introduces New Online Course For Non-Developers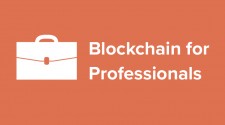 LONDON, May 2, 2018 (Newswire.com) - Global blockchain education provider B9lab today announces the launch of Blockchain for Professionals, a new 40-hour online course that requires no prior programming experience.
While it is true that blockchain enjoys a great deal of untapped potential to revolutionize and positively disrupt our lives, a critical view and deeper understanding of its consequences are essential in cutting through the hype (and hyperbole). Moreover, the blockchain community can feel exclusive to those with programming and coding experience, leaving out valuable perspectives, backgrounds, and inputs from non-developers.
"B9lab is on a mission to make quality blockchain education accessible to everyone who wants to learn," explained founder and expert instructor Elias Haase. "That's why we launched Blockchain for Professionals: an intensive course for professionals seeking a deeper understanding of blockchain technology. The aim is to offer a deep dive into how it works, from use cases and benefits to critical aspects that tackle rampant misconceptions."
Blockchain for Professionals (BFP) is designed for anyone with a basic understanding or interest in the concept of the blockchain but lacks a deeper understanding of how to apply the technology in their daily work or projects. This course is also ideal for anyone who wants to invest a career change toward the blockchain space but has no coding experience.
Participants will come away from the new Blockchain for Professionals online course with the ability to:
Understand the technical foundations and origins of blockchain technology
Differentiate between public and managed blockchain networks
Comprehend smart contracts
Apply theory to real use cases and business strategies
Assess different blockchain protocols
Understand possible implications and the disruptive potential of blockchain technology
As with the rest of the B9lab online course offering, Blockchain for Professionals participants will have the option to get certified on the public Ethereum blockchain. Certification requires a grade of 80% or higher on the final exam.
"At B9lab we have a solid reputation for training top quality developers, but we wanted to open that same instructor-led learning experience to people who may not have a technical background but still want to build up a blockchain skillset," said Haase. "This is a growing space that needs many types of quality talent and diverse profiles, not just programmers."
"More and more non-developers in the business world are starting to see blockchain-related projects and initiatives come up in their work, but might be reluctant to dive in for lack of programming experience. We designed this course to help them get comfortable with and even enjoy interacting with blockchain technologies," said course designer Citlali Mora Catlett. "We put a lot of work into making the course material accessible, interactive and applicable to a wide range of professional profiles and contexts that don't fall under the developer category."
Enrollment for the inaugural Blockchain for Professionals cohort, BFP-1, is now open. The course officially begins on May 9, 2018.
About B9lab:
B9lab is the world's leading blockchain education provider. Through our online academy, on-site workshops and talent services, B9lab has trained over 10,000 students from 112 countries. B9lab works with clients ranging from leading global institutions to talented independent developers all over the world.
Founded in 2014, our aim mission is to provide quality, technology-neutral education to prepare stakeholders for disruption and certify developers to drive that change. B9lab also offers blockchain advisory services to help companies, governments and institutions determine the best technical fit for their projects.
Media Contact: Nicole Harper, +44 20 3289 2724, info@b9lab.com
Source: B9lab
Share:
---
Categories: Business Technology, Banking, Finance, Insurance
Tags: blockchain education, blockchain for business, blockchain for non-developers, blockchain training
---
B9lab
20-22 Wenlock Road
London
N17GU
United Kingdom