B9lab Launches Online Summer School for Aspiring Blockchain Developers
Ethereum and Hyperledger Fabric Developer Courses offered back-to-back for the first time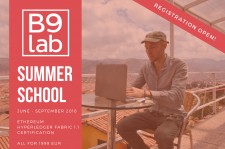 LONDON, May 31, 2018 (Newswire.com) - In an effort to help aspiring blockchain developers fast-track their education, B9lab is excited to announce the launch of its inaugural Online Summer School.
From June to September 2018, participants will have the opportunity to get certified in both Ethereum and Hyperledger Fabric (version 1.1) in just 4 months. This is the first time both developer courses have been offered back-to-back by B9lab, a leading provider of blockchain education, training and talent.
"This is an extremely demanding yet ultimately rewarding programme of study that requires a serious and dedicated effort of about 40 hours a week," said B9lab co-founder Damien Ducourty. "We hope to create well-rounded blockchain developers ready to launch their careers and get coding in smart contracts and chaincode."
Ethereum and Hyperledger Fabric are two of the leading platforms in the blockchain space, yet each has a very different vision when it comes to use cases and applications. "For the undecided or those seeking a balanced and well-rounded foundation to springboard their blockchain career, we usually recommend starting with the more complex stack (Ethereum) and then complementing that knowledge with Hyperledger Fabric," explains B9lab co-founder Elias Haase. "Learning both can also give developers the expertise needed to use Ethereum for other permissioned solutions like Quorum (EEA) and Hyperledger Sawtooth – a new course we are planning to launch very soon at B9lab."
The B9lab Online Summer School is supported by expert instructors and offers access to a vibrant community of learning and collaboration.
Participants will have the opportunity to get certified in Ethereum and Hyperledger Fabric after passing each final exam with a grade of 80 percent or higher. As with all B9lab certificate courses, certifications are publicly verifiable on the Ethereum blockchain.
Enrollment for the inaugural B9lab Online Summer School is now open. The first course officially begins on June 11th, 2018.
About B9lab:
B9lab is the world's leading blockchain education provider. Through our online academy, on-site workshops and talent services, B9lab has trained over 10,000 students from 112 countries. B9lab works with clients ranging from leading global institutions to talented independent developers all over the world.
Founded in 2014, our aim mission is to provide quality, technology-neutral education to prepare stakeholders for disruption and certify developers to drive that change. B9lab also offers blockchain advisory services to help companies, governments and institutions determine the best technical fit for their projects.
Media Contact: Nicole Harper, +44 20 3289 2724, info@b9lab.com
Source: B9lab
Share:
---
Categories: Educational News, Information Technology
Tags: blockchain developers, blockchain education, blockchain programming, Ethereum, Hyperledger Fabric, learning blockchain, programming blockchain, smart contracts
---
B9lab
20-22 Wenlock Road
London
N17GU
United Kingdom